Polar graphs can be a good way to represent cyclical data, such as traffic by day of week. In this post I take stack overflow data and plot the usage of tags throughout the week. The method also adds errors to the matplotlib polar plot as a shaded region to help understand the variability in the data. The data is available here ...read more
There are comments.
Dates and times provide an unlimited source of hassles for anyone working with them. In this post I'll discuss a potential performance pitfall I encountered parsing dates in pandas. Conclusion: Create DatetimeIndices by parsing data with to_datetime(my_dates, format='my_format').
I recently switched DSLR camera systems from Canon to Nikon for reasons of marital harmony. That meant choosing which Nikon lenses would replace the four Canon lenses I owned. To make an optimal decision I needed to know my historical usage, so I wrote some python to analyze image metadata from 10 years of digital photography.
...read more
There are comments.
The Timedelta object is relatively new to pandas. Recently I worked with Timedeltas but found it wasn't obvious how to do what I wanted. Worse, some operations were seemingly obvious but could easily return the wrong answer (update: this issue was fixed in pandas version 0.17.0). Here I go through a few Timedelta ...read more
There are comments.
I just noticed that GitHub now renders Jupyter (IPython) notebooks when you view the file. This is great! See GitHub's post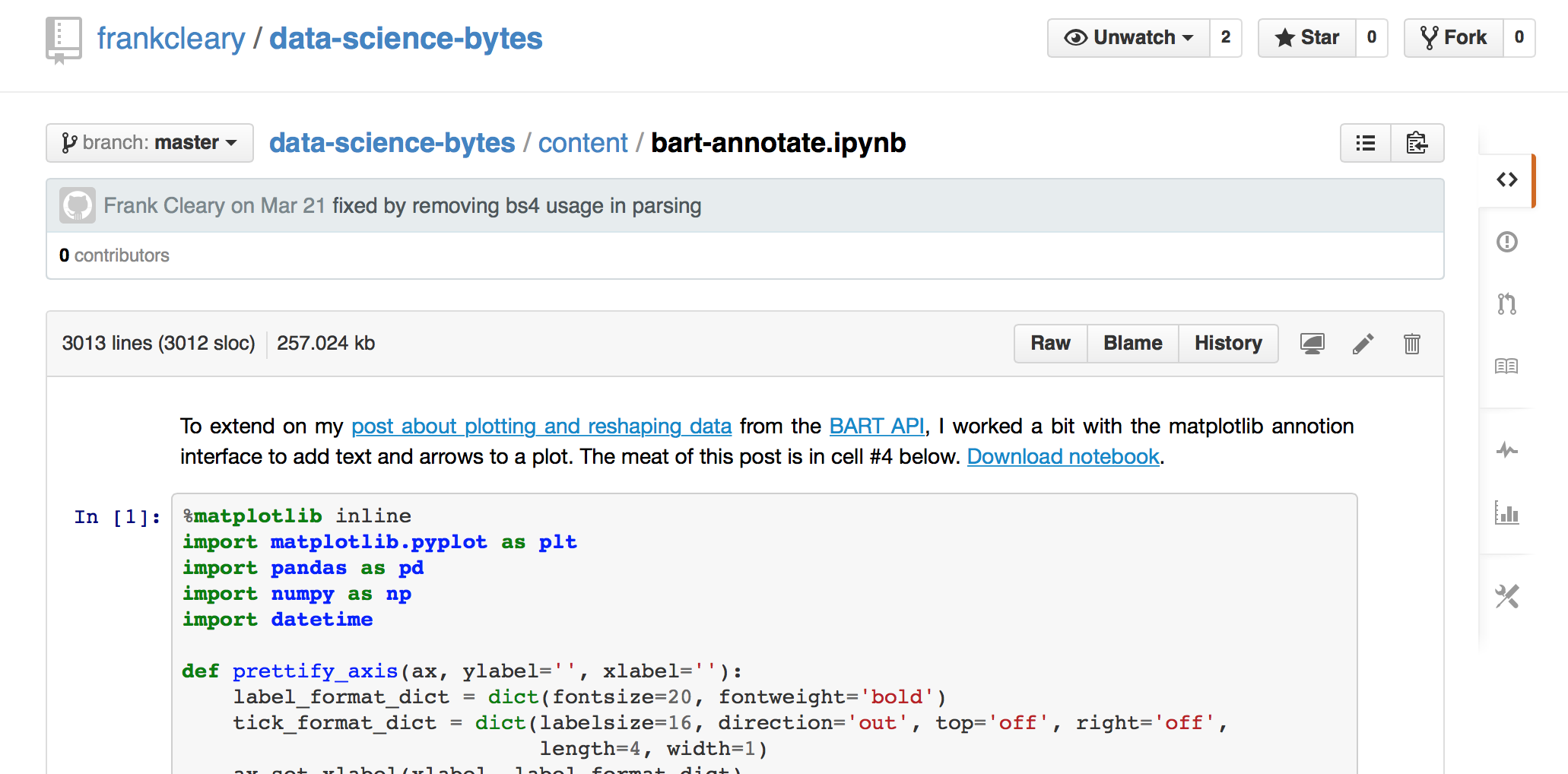 ...read more
There are comments.
Videos of the talks from PyCon 2015 can be found here. I haven't had a chance to watch any yet but I'm sure some of them will be excellent. You can see my favorite python and data science videos on the recommended videos page.
...read more
There are comments.
Pandas 0.16.0 was released this week. Version 0.16.0 includes a new .assign() method of DataFrames, which I'll use on some real world automobile MPG data below (data file).
To show some techniques for working with files that are too large to fit on memory, I'm writing this post on a 10 year old laptop with 512 Mb of RAM and a 1.2 GHz celeron processor. The data in question is an xml format dump of data from …
...read more
There are comments.
IPython 3.0 has been released, with notable changes to the IPython Notebook, which is now evolving into the language-agnostic Project Jupyter.
I think some of the new nbconvert tools will be useful:
Added a .ipynb exporter to nbconvert. It can be used by passing --to notebook as a commandline …
...read more
There are comments.
File compression tools like gzip and bzip2 can compress text files into a fraction of their size, often to as little as 20% of the original. Data files often come compressed to save storage space and network bandwidth. A typical workflow is to uncompress the file before analysis, but it can be more convenient to leave the file in its compressed form, especially if the uncompressed file would take up a significant amount of space. In this post I'll show how to work directly with compressed files in python.
...read more
There are comments.